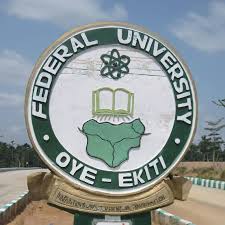 The Federal University Oye-Ekiti (FUOYE), has launched online teaching scheme involving all academic staff to cater for the teaching needs of the upwardly mobile varsity's teeming students during the three weeks' compulsory holiday ordered by the Federal Government. Vice-Chancellor of the University, Prof. Abayomi Sunday Fasina, explained that an online teaching was needed to maintain the stability of the academic calendar of the institution so as to ensure an excellent situation where students graduate in record time from their various departments.
It will be recalled that FUOYE resumed academic activities promptly on October 17, 2022 after the eight months strike action of the Academic Staff Union of Universities (ASUU). The university successfully ran two academic sessions, 2020/2021, 2021/2022 under the dynamic leadership of the VC, and began the 2022/2023 academic session on January 9, 2023 successfully, thereby maintaining a stable academic calendar in spite of the ASUU strike.
According to a press statement made available on Wednesday by the VC's Special Adviser on Media Matters, Wole Balogun, the online teaching scheme had began with a day training for all academic staff on Friday, 17 and kicked off today, Wednesday, 23.The online teaching intiative was launched by FUOYE management through the University's Directorate of Quality Assurance , chaired by Prof. Ibrahim Adeyanju . It is been excellently actualised by the Director of the Directorate of ICT and Training, Mr. Samson Durojaiye.
The University management had made available logistics in form of online tools, and data stipends for the lecturers out of the proceeds it made from the Internally Generated Revenues (IGR) of the varsity through its numerous entrepreneurship initiatives which have yeilded appreciable returns.
In another exciting development, FUOYE now ranks 17th out of the 284 universities in Nigeria in webometric ranking. This is an improvement from it's 24th position about a year ago. It is an exemplary ranking of the University which is unprecedented since the inception of the almost 12 years old institution. This has happened undoubtedly on the account of the uncommon managerial acumen of the incumbent VC, Prof. Fasina.
The students of the University have hailed the online teaching initiative as it would ensure that they do not remain idle during the three weeks holiday and would eventually graduate from their various courses of study in record time.