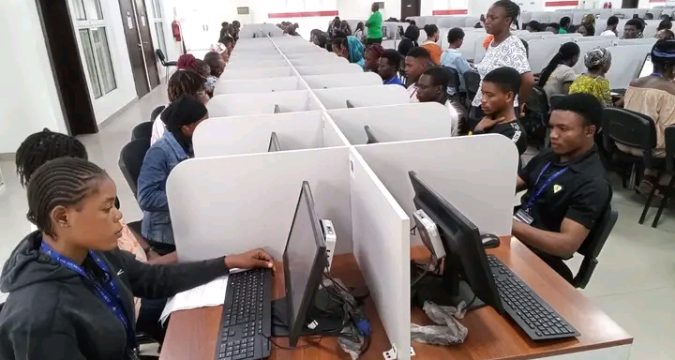 The Association of Tutorial School Operators has said the 2023 Unified Tertiary Matriculation Examination candidates will experience pain and stress.
This was in reaction to the reduction in the number of computer-based centres across the country by the Joint Admissions and Matriculation Board.
The JAMB Registrar, Prof. Isaq Oloyede, announced the reduction when he met with commissioners for education across the country on Monday in Ikeja, Lagos.
It was gathered that JAMB reduced the centres for reasons such as poor facilities, not complying with the guidelines of the Board, and involvement in examination malpractice among others.
Though the total number of CBT centres axed by the board was not given, investigations revealed that in Ogun State, the number of CBT centres was reduced from 43 to 21, in Abia State, the number was reduced from 21 to 14 and in Kogi State, it was reduced from 17 to 16.
But in an interview with The PUNCH, the ASTO National President, Dotun Sodunke, explained that though it was a good step to curb substandard CBT centres in the country, he, however, added that the few available centres would not be enough for the candidates to conveniently sit 2023 UTME.
He said, "The CBT reduction will make candidates pass through a lot of rigours to sit the exam. I can't imagine the stress and risks the students will experience. Some of the may be taken to far away CBT centres due to the reduction. A candidate in Surulere may be taken to Badagry. By the time the candidates go through the high cost of transportation, travel long distances, and sleep in hotels to sit the exam, some will get kidnapped, raped and a lot will fail and we won't get the best into our universities. It is not worth it."
He suggested that JAMB should build mega senatorial CBT centres of 5,000 capacities that would accommodate more UTME candidates.
Also speaking, the Commissioner for Education in Kogi State, Mr Wemi Jones, said, "This is the first time I am attending a meeting like this and a lot of issues have been cleared. Regarding the reduction in the CBT centres, we would find out what happened and tidy up any loose ends. The size of Kogi State requires that we even have more centres not that the number be reduced.
"The Commissioner for Education in Ogun State, Prof. Abayomi Arigbabu, commended the Board for the meeting.
"This is a novel idea, I mean meeting with commissioners for education and carrying them along. As a Vice Chancellor, I was part of meetings regarding preparations for the UTME. But this is the first time a meeting of this kind is holding. You know the practice in the past is that examination bodies would just conduct exams without letting the state authorities know what is happening."