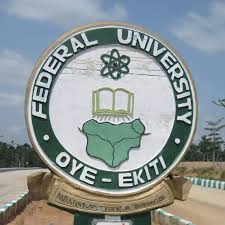 The Federal University Oye Ekiti (FUOYE), Ekiti State, has shifted its computer-based-testing (CBT) for the first semester examinations by one week to accommodate JAMB Mock UTME following hiccups arising from the exercise.
This, it said the shift in the CBT occasioned by the hiccups would not affect the ongoing first semester examinations for its new students, cautioning students against visiting the university ICT centre pending further directive to avoid a stampede.
Although it assured students of quality control and safety at ICT centre following presence of medical personnel who were always available, students had no business going to the center except otherwise directed to so do in accordance with the rules and regulations governing the university.However, the shift in the CBT by a week would help the university management to address a series of issues identified with a view to putting them in proper perspective.
In a statement by the university Public Relations Officer, Mr. Foluso Ogunmodede and signed by the registrar, Mr. Mufutau Adesina Ibrahim, said the management regretted any inconvenience this shift in the CBT may have caused the students.
Accordingly, the statement said the Vice-Chancellor, Prof. Abayomi Sunday Fasina has mandated a stand-in- committee to address the already identified issues " in this regards from planning/scheduling to allegations of extortion made against security personnel."
It reads: "The university noted the issues that have arisen in the course of administering the CBT as we make academic progress with the first semester examinations and strongly express regrets at the turn of events.
"However, it's pertinent to point out that concerned students had been duly informed that the CBT had been cancelled for today Thursday, 30th March, 2023 to accommodate the JAMB Mock UTME as scheduled.
"To this end, all CBTs have been postponed for one week as an immediate and interim measure.
"For the avoidance of doubt, all pen-on-paper first semester examinations would go on as scheduled.
"It's worthy of note that the VC and his management team were physically present at the ICT centre to address the matter.
"The VC has further set up a committee to address all the issues identified in this regards from planning/scheduling to allegations of extortion made against some security personnel.
Thankfully, no casualty was recorded as the Vice-Chancellor and the Management Team as well as the University Health Centre personnel werefully available to handle emergencies.
"We sincerely regret any inconvenience this may have caused."
Thank you.
Signed
Mufutau A. IBRAHIM
Registrar