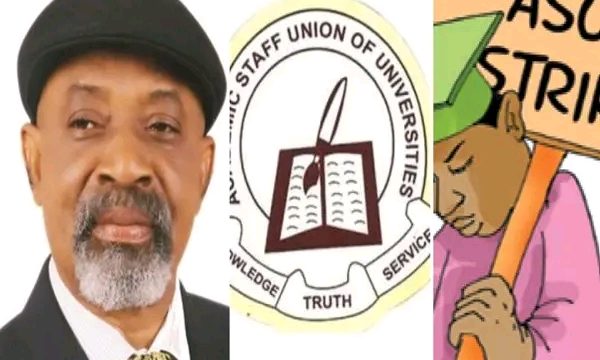 Chris Ngige, minister of labour, has asked the members of the Academic Staff Union of Universities (ASUU) to resume teaching in line with the appeal court verdict.
Ngige spoke on Friday during an interview on Channels Television.
ASUU has been on strike since February 14 over the demand for improved funding for universities, salary review for lecturers, among other issues.
Following deadlock after several meetings, the federal government proceeded to the national industrial court to challenge the action.
On September 21, the national industrial court granted the federal government's application for an interlocutory injunction to restrain ASUU from continuing with the strike pending the determination of the substantive suit.
Dissatisfied with the ruling, ASUU approached the court of appeal seeking leave to challenge the lower court's decision.
On Wednesday, the court of appeal asked the parties to explore the option of an out-of-court settlement, but the federal government and the union failed to reach an agreement.
At the resumed sitting on Friday, the court of appeal ordered ASUU to call off its strike.
Speaking on the development, Ngige asked ASUU to stop wasting money on pursuing legal action on the case.
"If I were ASUU counsel, I would advise them not to be making money for lawyers; lawyers who want cases to go upstairs — court of appeal and supreme court," she said.
"I will advise ASUU, for the benefits of the nation and the children, to go to the classroom and go back to that same initial court to grant them either two things — to set up an ADR to look into all the issues that are transmitted there."
"The good thing about this one is that by section 243 of the Nigerian constitution, the court of appeal is the terminal court for the judgment.
'ASUU NOT SINCERE, STRIKE POLITICISED'.
Speaking further, the minister accused ASUU of not being sincere with negotiations, adding that the union has politicised the strike.
Ngige also alleged that Emmanuel Osodeke, ASUU president, asked Nigerians not to vote for the All Progressives Congress (APC) in the 2023 elections.
"It is ASUU that is not sincere. They feed their members with lies. At a point, they politicised the entire thing," he said.
"President Osodeke of ASUU on national TV asked them (referring to Nigerians) to vote out the APC government, that they have kept children at home for seven months.
"Why is he dabbling into politics? A union should not go into politics by section 15 of the Trade Union Act."